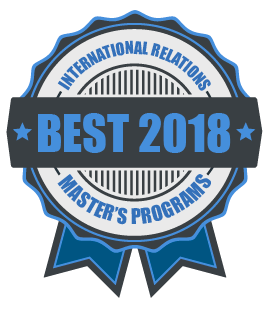 International relations is a field with a long history and broad outlines. It touches on everything from human rights to multinational commerce, and encompasses delicate high-level diplomacy just as much as the nuts and bolts of international commerce and security. It occupies a place in the daily headlines, while still drawing on treaty language that is hundreds of years old.
You might need expertise in international relations for something as prosaic as handling overseas shipping to Myanmar or as unusual as calculating spacecraft trajectories. In a multicultural, highly interconnected world, almost every profession has occasion to intersect with international affairs.
Those qualities make obtaining an advanced degree vital if you hope to build a career in the field, but they also make it difficult to assess the relative quality and value of a degree program in international relations.
That's where we come in. We've analyzed all of the most esteemed gradate programs from every corner of the country, covering the wide range of offerings from international development to intercultural conflict management to identify what we think are the best options out there. We're sure anybody making an objective assessment would agree that the international relations departments that made our list are some of the most influential in the world.
<!- mfunc search_box_body ->
<!- /mfunc search_box_body ->
<!- mfunc feat_school ->
Although international relations is a complex, dynamic subject, you'll find that the most respected schools remain on top year after year. It takes time to build a deep bench of experienced instructors and contacts overseas. This is something that only tends to be reinforced over time through more research and an ever stronger network of scholars and thought leaders from around the world.
As a heavily liberal arts oriented field, all good programs dive deep into history and cultural studies, and almost all require you to become proficient in a foreign language. So it shouldn't be a surprise that a lot of strong, traditional liberal arts schools have really excellent international studies programs.
It's also not surprising that not every university has a program that makes the grade. It's a specialized business, and not every state has a school with a top program, so if you happen to live in Alaska, sorry… you're going to have to study online or move south for a couple of years.
How We Made Our Selections
Because international studies programs are so heavily influenced by regional and specialty focus, it's virtually impossible to do a conventional side-by-side comparison to assess the quality of one program over another.
Instead, we looked at the schools themselves, and the diversity of thought and investigation available within the universe of their international studies offerings.
Diversity of Options
Because we were looking at international studies departments rather than specific degree programs within those departments, we had the luxury of assessing both the overall quality of the school and the diversity of the programs it offers.
<!- mfunc search_btn -> <!- /mfunc search_btn ->
A school that offers more in the way of specialized concentrations doesn't just give you more options in trying to find the perfect fit; it also implies a deep bench in terms of faculty and expertise at that school. The cross-pollination of ideas that occurs when you bring together professors with diverse experiences and backgrounds makes every specialization more valuable, creating a network effect. This is something we feel goes to the very essence of global studies, and international relations in practice.
Contributions to Research and Outreach
We feel strongly that outreach efforts and initiatives that connect scholars with people and institutions around the world is one of the strongest distinguishing features of a school of international relations. These efforts often result in overseas studies opportunities for students and can provide a valuable way for you to make connections with current and future experts in the field.
International studies is not a field that sits still for long. Although it's not science, it is among the most heavily researched and investigated disciplines. We wanted to give schools that demonstrate leadership in research and outreach all the recognition we feel they deserve for making real contributions to the field, and for truly being an influential presence in the world.
Schools that support more research develop deeper and wider-ranging expertise and can offer students a better overall learning experience. Not only do you benefit from working with faculty that bring to the classroom years of experience and focused study in their area of expertise, you'll also have opportunities to assist in some meaningful research yourself.
Joint or Dual Degree Options
Most people going into the field of international relations come from undergraduate programs in other majors, or otherwise develop expertise in areas like business, law, public health or even environmental science as a way to complement an education in international studies. Schools that recognize this by offering joint or dual degree options that combine international studies with an MBA, JD, MPH or other graduate degree really get our attention.
Although most students aren't so ambitious as to launch into a full dual degree program, having the option to do so is valuable, and the fact that the international studies department clearly demonstrates coordination with other fields is a good sign for anyone studying there.
Our Favorite Schools of International Relations By State
Here you'll find full-time, part-time, and accelerated programs; options available online or exclusively on-campus; and just about every focus area in the field you can imagine. What you won't see here is mediocrity. Every one of these programs is exceptional in its own right and offers a learning experience that is objectively outstanding, while at the same time bringing something vitally important to the broader field of international relations.
---
This list features programs that our editorial staff hand selected to present as top recommendations. We believe the many aspects of a program that come together to create an exceptional student experience can't be reduced to numbers alone, so no formula was used to attempt to score or rank these programs. Instead, they represent our top picks based on a thoughtful review of the things we know mean the most to students. Each one of these programs offers something unique, and all come equally highly recommended. We stand behind the principal of editorial integrity and make these recommendations independently and without compensation.
---
*waived for international students who earned their degree from a US school
**waived for international students who earned a degree from a school where English was the language of instruction, or from a country where English is the official language
<!- mfunc feat_school ->